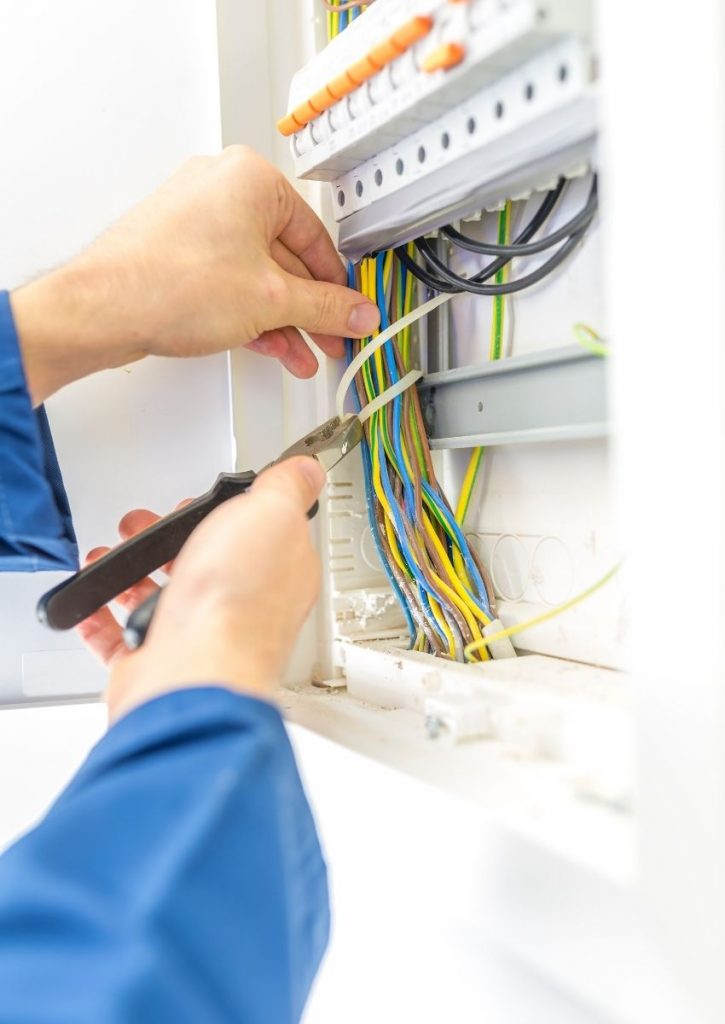 Are you looking for a commercial electrical certificate? Get the commercial electrical safety certificate for your premises. London Landlord Certifications has a group of qualified and competent electricians to carry out electrical inspection and testing. London Landlord Certifications is here to assist you, whether you need a regular visit or a full commercial electrical installation condition report.
If you own a business in the UK, you will have many benefits from a commercial electric certificate. The commercial certificate of electrical is a step forward in making electrical installation more safe. The official name of the commercial certificate for electricity is EICR ( Electrical Installation Condition Report).
Most significantly, the commercial electrical safety certificates and routine electrical testing are essential for the electrical installations' safety and reliability. Electricity must be kept safe and stable for both commercial landlords and businesses.
The best way to do so is to hire London Landlord Certifications to conduct a thorough inspection by a certified electrician.
How to get a commercial electrical safety certificate?
You must hire a competent and qualified electrician to perform the commercial EICR. Before the property is let, they will let you know if anything needs to be changed or improved in order to comply with the Act. Regular electrical inspection is necessary to ensure commercial electrical safety.
At London Landlord Certifications, electricians are competent, use best electrician software and qualified to carry commercial and industrial electrical installation and issue a commercial electrical safety certificate or commercial electrical installation condition report ( EICR). Contact London Landlord Certifications now to fulfil this requirement.
Who can issue a commercial electrical electrical safety certificate / Electrical installation condition report (EICR)?
After completing an electrical inspection and testing, only qualified and competent electrical engineers can issue the electrical installation condition report or commercial electrical certificate.
How much does a commercial electrical safety report (EICR) / certificate Cost?
It depends on the size of the installation, location and property type. These typically cost between £170 and £2550 for an average commercial property with reasonably new wiring.
What are the benefits of having a commercial EICR certificate?
It can help identify faults.
Save lives.
Easier to keep up to date with the latest changes to regulations.
Help prevent lawsuits.
How long does it take to carry out the electrical inspection?
In fact, it depends on the installation and its size.
How is a commercial landlord responsible for safety of electrical installations?
The 1957 Occupiers' Liability Act and the 1984 Occupiers' Liability Act are two other pieces of related legislation that relate to electrical protection in commercial properties.
These states that landlords owe a duty of care to anybody who comes to their house, not only the tenant. The commercial electrical installation condition report is particularly relevant in commercial properties like stores, restaurants or office buildings, in which large numbers of people will visit everyday.
I am a commercial landlord. Do I have a legal responsibility to ensure electrical safety of my commercial property?
As a commercial landlord you have a duty of care to any tenants who lease your property and you have a legal duty not to jeopardise the health and safety of tenants.
A commercial landlord should have their property surveyed and an Electrical Condition Report (EICR) written by a qualified electrician before letting it out. The property should also be inspected at least once every five years.
As an owner, you must have your property surveyed with an EICR before letting it to tenants in order to comply with the rule. You can also check that the electrician you employed is legally qualified to conduct an EICR.
It is then their duty to notify you if anything needs to be fixed before the property can be rented.
If this is the case, you'll need to make arrangements for changes to be made so that potential tenants are not put at risk.
I am a tenant. Do I have any legal obligations to ensure the electrical system is safe?
The tenant's obligations will be explicitly stated in the contract. Typically, commercial landlords are responsible for structural repairs like foundations, flooring, roofs, and exterior walls, while tenants are responsible for non-structural repairs like air conditioning and plumbing. Any maintenance and repairs not expressly defined as the landlord's liability in the contract, they are normally the responsibility of the tenant.
A contract specifies that the occupant must keep the property in good shape, even though it wasn't kept to the same standard at the start of the lease.
Before granting a commercial lease, it is vital for an electrician to conduct an electrical testing and issue the commercial certificate of electrical / electrical installation condition report (EICR) every five years.
What happens if my EICR is 'unsatisfactory' due to dangerous electrical wiring?
If your report is unsatisfactory due to dangerous electric wiring, it is your duty as the commercial landlord to ensure that your current and future tenants do not experience any danger.
Why do you need to get a commercial electrical certificate?
The commercial electrical certificate indicates if the electrical system is safe to use and details any necessary repairs. You can be sued under the provisions of the two Occupiers' Liability Acts if you fail to follow electrical safety standards for commercial premises and someone is injured as a result regardless of whether the person was on the property lawfully or trespassing.
How often do I need to conduct electrical inspections and get a commercial electrical safety certificate / EICR?
It should be carried out for commercial properties every 5 years and for industrial premises every 3 years. Periodic testing and inspections would normally rely on installation state at the time of the previous inspection, but periodic inspection should take place at least every five years or at the end of tenancy, regardless of which time first applies.
What types of certificates are available?
The electric safety certificates or reports are available in four different types:
Electrical installation certificates,
Minor electrical works installation certificates
Electrical installation condition reports and
Part P notifications.
These certificates prove that the work you've completed is safe for tenants to use and meets UK standards: they'll say if the work you've done is new, such as installing a whole new system or completely rewiring your existing system.
If you've made some changes to your current configuration, such as installing new circuits, the certificate will reflect this.
Finally, any changes made by your contractor, such as the addition of a socket or consumer unit, must be noted in the report.
What do electricians look for when they conduct electrical testing and inspection?
When electricians inspect the electrical installation, they will determine whether or not they are in good working order. An inspector's report will also outline any issues with your electrical system that need to be addressed, such as:
Electrical systems are damaged.
Your electrical equipment has defects and is deteriorating.
Situations that are potentially dangerous or equipment that is about to fail.
Outdated features that are no longer compliant with safety regulations.
How does my business get an electrical installation condition report (EICR) now?
London Landlord Certifications will conduct a comprehensive electrical inspection and testing of your property, giving you peace of mind about electrical compliance. With years of experience in all forms of electrical installations, London Landlord certifications can provide a reliable and detailed report as well as best guidance on how to keep your property's electrics in good working order. Obtain the commercial EICR for your business.
To obtain a commercial electrical safety certificate, you would need to contact a registered electrician. Qualified electricians are available at London Landlord Certifications. To receive a commercial EICR, contact right away.
Related Services:
Commercial EPC
Useful links: