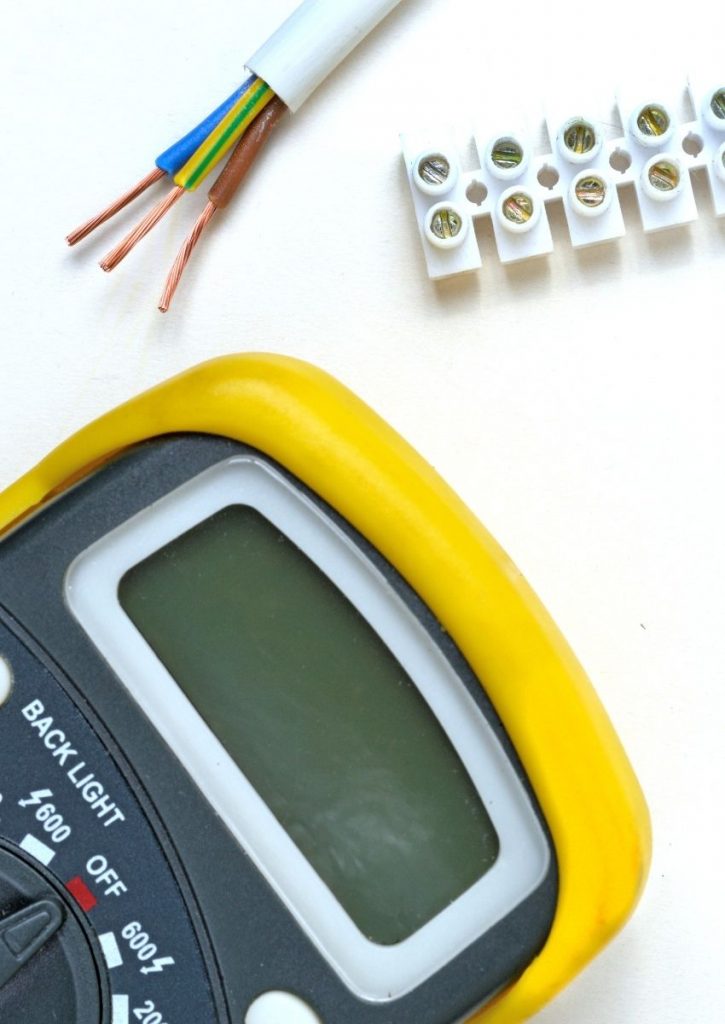 Obtain your EICR Certificate now. Choosing a right EICR testing and inspection company can be a daunting prospect for anyone, let alone when you don't have any background. Maybe you've tried Googling "EICR Certificate near me" or "EICR near me" in the hope that you'll find someone who is local and hopefully has a good reputation. London Landlord Certifications is a London-based property inspection company that serves both commercial and residential landlords. An EICR certificate aims to ensure that a building's electrical systems and installations are safe, properly installed, and well maintained.
They provide a valuable condition check for properties of all sizes, from a single-family home to a large industrial place.
Get your EICR test done for your property, an EICR test will check the status of your electrical systems to decide how well they are working, with special attention paid to any deterioration or defects.
London Landlord Certifications conducts electrical safety checks and provides landlords with an EICR certificate or electrical installation condition report for their rental properties.
All of the EICR tests are done by qualified and competent electricians.
What is an EICR certificate?
An EICR Certificate is an electrical safety certificate that specifies the safety and overall condition of all electrical installations and fittings in a building. A trained electrician conducted an in-depth check, which appeared in the EICR certificate or Electrical Installation Condition Report.
The electrician will conduct a visual inspection of the installation as well as several tests to ensure that electrical system is in working order and meets regulatory requirements.

How to get an EICR certificate?
You can hire London Landlord Certifications or hire any qualified and competent electricians to conduct electrical safety inspections. They will issue an EICR certificate after completing the inspection and testing. Most importantly, London Landlord Certifications has qualified and competent electricians to issue EICR certificates or a certificate of electrical safety.

Do I need an EICR report?
Yes, it is a law for landlords. The EICR was expected to be completed before July 1, 2020, or 1 April, 2021 for existing tenancies, in order to increase the level of electrical protection in the private rented sector in England. Landlords must employ a qualified professional to perform an electrical inspection of their property prior to the start of any new tenancy, according to the study.
How much does an EICR certificate cost near me?
The cost of an EICR certificate can depend on a few factors, including the size of your property, location, number of circuits and the age of the electrics. Costs may also differ between regions, with electrical inspections and testing often costing more in Central London than they do in the east of England. Average costs of EICR certificates can be in London between £120 to £900 plus VAT.
Who can issue a certificate of electrical safety?
Only the competent person can issue an Electrical Installation Condition Report (EICR), also known as Periodic Inspection and Testing Report (PIR). It includes a list of any damage, degradation, defects, dangerous conditions, and any non-compliances with current safety standards that could put people in danger.
Who's qualified to carry out an electrical test?
A competent person who has relevant qualifications to carry out electrical tests.
How can I hire an EICR company near me?
You can google EICR near me or EICR testing and inspection provider near me. In fact, London Landlord Certifications has a group of engineers near you who can carry out testing and issue an EICR certificate.
What will the EICR certificates show?
The EICR certificates display the relevant recommendation code and informs the landlord of any required remedial work. The date of the next electrical safety inspection will be listed on the certificate of electrical safety.
Electricians use a variety of classification codes to determine whether or not a landlord is required to do remedial work.
Please see the following for more information:
Code 1 (C1) indicates that there is a risk.
Code 2 (C2): This is a potentially risky situation.
Further Investigation (FI): Immediate further investigation is needed.
Improvement is suggested in Code 3 (C3).
If the document contains code C1 or code C2, remedial work must be done.
The EICR will demonstrate that the installation should be deemed unsatisfactory.
If an inspector determines that further investigation is necessary (FI), the landlord must ensure that it is completed.
The C3 code does not require any corrective action but rather enhances it. The electrical system's protection would be improved if the landlord made these changes.
Regulations and EICR certificates for landlords:
Private landlords must ensure that any electrical system in their rental property is tested and inspected at least every 5 years by a competent and qualified person. The legislation in England took effect on 1st July 2020 for new tenancies and 1st April 2021 for current tenancies.
After the inspection and testing, a private landlord must:
Ensure that electrical safety requirements are fulfilled. The 18th edition of the Wiring Regulations, known as BS7671, was recently issued.
Ensure that properties are inspected and checked by a qualified and competent electrician/engineer at least once every five years.
Obtain a report from the inspector, including the findings of the inspector and the date of the next EICR test.
Provide a copy of this EICR certificate to the current tenant within 28 days of performing the inspection and test.
Before moving in, a new tenant must obtain a copy of this EICR certificate.
Within 28 days of their testing and inspection, make a copy of this report available to all prospective tenants.
Within 7 days of receiving a request, send a copy of this EICR certificate to the local government.
Keep a copy of the report to hand over to the next inspector.
If the report requires further investigation or remedial work, you must complete it in 28 days or less.
Provide written notice from the electrician to the tenant and the local authority within 28 days of the completion of the remedial works.
Is an EICR certificate a legal requirement for UK landlords in 2021?
Yes, it is. All landlords must get each of their rental properties inspected every 5 years, and they must keep the reports for the followings:
Their record
Tenants
Prospective tenants
Local authorities
How long are they valid for?
Current law states that the report is valid for 5 years for renting properties but also recommends renewing the EICR certificates at the beginning of each new tenancy.
Can I self-certify my properties?
You should be able to self-certify your properties if you have electrical qualification and competence.
Do I need an EICR certificate or report to sell my property?
If you wish to sell your property, the current guidelines state that a certificate of electricity is not legally necessary. However, the buyer's lawyer usually requests a report as part of the conveyancing process.
How often should I get a certificate of electrical safety or EICR?
It is generally preferred to have an electrical system checked every year. In accordance with UK law, the EICR inspection is now mandatory every 5 years (or every full EICR cycle) or with every change in tenancy.
As well as getting the EICR every 5 years, you must get the recommended repairs if the EICR inspections issue the urgent codes (such as C1 and C2), as stated by "unsatisfactory"
Inform your tenants and the authorities in writing so that they are able to stay up to date with the status of the property.
The effects of failing to obey the electrical safety certificate rules and regulations as a landlord are serious.
In addition to the possible legal consequences (usually a fine) for failing to meet EICR guidelines, many insurance firms can refuse to do business with you or deny repair claims if you fail to maintain your properties' electrical systems.
What does an EICR check?
The aim of an EICR inspection is to see if there are any major problems with a property's electrical systems. The inspection entails a visual examination of the electrical systems as well as thorough testing of related components such as the interior, consumer unit, light fittings, switches, sockets, wiring, etc.
Most importantly, the engineer will need to turn off the power for a short period of time to carry out the tests. It will take sometimes to complete the inspection and testing. Finally, the length of the inspection can be determined by the size of the premises, the number of circuits, and other factors.
The tests include dead testing, live testing, and RCD testing. Find the followings:
Visual Inspection
The test starts with a visual check. A visual inspection is a quick check to see if there are any noticeable signs of damage, corrosion, or defects.
Dead Testing
Dead testing is, as it sounds, performed on the circuits when they are de-energized, and form the initial testing of the circuits. Continuity testing, Polarity testing and insulation resistance testing are the three sections of the Dead Testing process. These tests will outline the new circuits' insulation resistance and the continuity of the ring circuits.
Live Testing
The process of working on parts of an electrical device while they are still live is referred to as live testing or live working. In the event of a major problem or emergency, these checks ensure that the electric system can quickly shut down to avoid potentially unsafe situations and further harm.
RCD Testing
RCDs Residual-Current Devices are installed for fire prevention purposes. After disconnecting the load, RCD tests are performed with a special tester connected between the phase and protective conductors on the load side of the RCD.
In general, RCD testing is the method of "tripping" the RCD in a safe manner to ensure that it can respond quickly in the event of an electrical incident. Another name for this test is safety switch checking. Your RCD is programmed to trip or switch off all power to that circuit.
Will the electricians / engineer need to turn off the power?
Yes, While each circuit is being checked, there will be a brief power outage.
How long does it take?
The size of the house, the number of circuits, the complexity of the installation, and any possible problems found during the inspection determine this. A small flat, on the other hand, can take about an hour to test, whereas larger homes can take up to 3 or 4 hours.
Can I fail the EICR certificate?
Not necessarily. It is a report, and the EICR certificate outlines if any part of the system is unsafe, remedial works, etc . The system can be marked as 'unsatisfactory' if it is unsafe.
What happens after the inspection?
Once you clear the payment, you will receive your EICR certificates, but It can take some time to get the EICR certificate as the engineer needs to create a digital report with the findings. Your property is marked as 'satisfactory' when it complies with the required standard. If your property doesn't meet the required standard, it is classified as "unsatisfactory." This means that remedial work is required to achieve the required standard. The report will also show which part of the electrical system is not safe and why.
Benefits of an up to date EICR
Compliance
With the recent legislative changes, it is vital that you take the appropriate action to ensure that you and your properties are fully compliant.
Safety
Many people are injured or killed in fires caused by electrical faults, and electrical faults are responsible for nearly half of all accidental UK house fires, which is why an EICR check should be performed on a regular basis to ensure that all electrics are protected.
Insurance
Increasingly insurance companies are asking for EICR checks to be carried out regularly. The EICR certificates will notify the insurance company if the accident could have been avoided, it will help your claim in most cases.
Save Money
You can save money with the EICR. The EICR certificates help to keep the system safe. Don't wait for the electrical to be damaged because you may have to pay more for repairs. If problems are detected, they can be fixed before they become bigger.
Contact LLC for EICR Certificate now.
Related services:
Useful links: