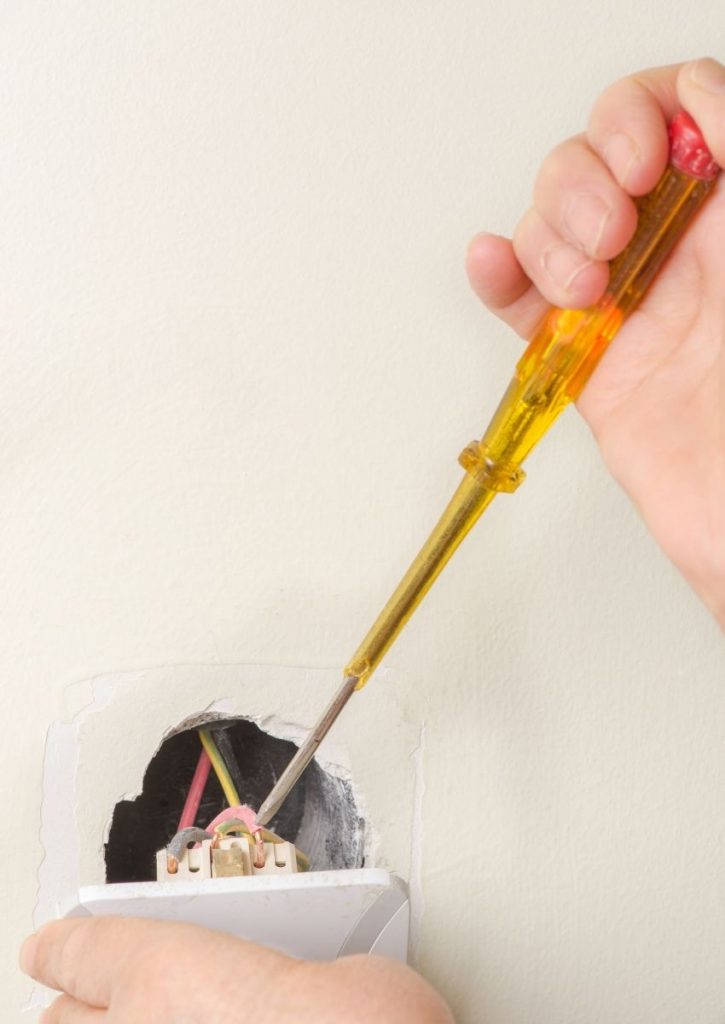 Get the electrical safety certificate or Landlord electrical report for your tenants from local electricians. London Landlord Certifications is a property inspection company for commercial and residential landlords in London. Landlords should be aware that all tenancies in England must have an Electrical Installation Condition Report. Most importantly, the certificate of electrical safety is needed to verify that the condition of the electrical installation is still safe.
London Landlord Certifications carries out electrical safety checks and issue certificate of electrical safety or a report to landlords for their rental properties. All of electrical works are fully guaranteed and insured by London Landlord Certifications. In fact, London Landlord Certifications offers competitive prices and free estimates while maintaining its values of excellent customer service. Please contact now right away.
Being a good landlord also involves having an electrical inspection done on your property regularly to make sure the electrical installation is safe and get the certificate of electrical safety for your tenants.
What is an electrical safety certificate?
An electrical safety certificate is a document issued by a qualified electrician. In fact, the electrical safety certificate or report is usually called an Electrical Installation Condition Report (EICR). It is an official document produced following an in-depth assessment of the electrical systems within any domestic, commercial or industrial premises.
Moreover, It shows that all electrical installations in a property – things like lights, plug sockets, wiring and fuse boxes – are working properly and safe to use.
There is no prescribed format for the report. This means that it differs from one company to another. As long as it's conducted by someone who has met the government's requirements, then it's good. Important to remember, Electricians LLC use latest software to produce the certificates. Contact now.
Prices:
Studio from £140 ( Offer: from £115)
1 Bed from £ 150 ( Offer: from £120 ).
2 Bedrooms from £ 170 ( Offer: from £135 ).
3 Bedrooms from £ 180 ( Offer: from £145 ).
4 Bedrooms from £ 195 ( Offer: from £165 ).
More than 4 bedrooms, please call office.
Please note, the above prices are for up to 5 circuits with a single consumer unit. If you have more than 5 circuits, there will be an extra charge of £10 plus VAT for each additional circuit.
Why is it so important to obtain certificate for your properties?
In England, it is a law that applies to rental properties. An electrical report is used to determine whether electrical installations are safe and well-maintained. If your electrical installation is safe, you will receive a satisfactory report. If not, the report will be unsatisfactory.
Suppose any part of the installation is found to be faulty. In that case, an explanation will be given on how it can be corrected and a report will be issued.
Do I need an Electrical Certificate?
Yes, regardless of whether it is your home, an office, or a business, you must have an Electrical Service Report on file. Most importantly, It is a legal requirement to have an electrical installation condition report or certificate of electrical safety for rental properties in England.
How to get an electrical safety certificate?
You will need to contact a qualified electrician to get an electrical safety certificate. London Landlord Certifications has qualified electricians. Contact now to obtain an electrical safety certificate.
How to obtain an EICR certificate?
The EICR certificate (the electrical installation condition report) is a certificate of electrical safety. You will need to hire qualified and competent electricians to conduct electrical safety inspections. They will issue a certificate after performing the inspection and testing.
How much is an electrical safety certificate?
The cost of an electrical safety certificate can vary, depending on the location, size of your property, consumer unit and the number of electrical circuits that need to be checked. Average costs of the report can be in London between £110 to £750 plus VAT.
Who's qualified to carry out an electrical safety inspection?
Only an electrician who is competent and qualified can inspect and issue a certificate of electrical or report.

What will the report show?
The electrical installation condition report will show if the electrical installation is safe to use. In fact, the report will provide information that can easily be used by the landlord, who will not have to perform any additional work unless needed.
There are a number of classification codes used by electricians to identify whether or not a landlord must undertake remedial work. Please find them below:
Code 1 (C1): Danger present. Risk of injury.
Code 2 (C2): Potentially dangerous.
Further Investigation (FI): Further investigation required without delay.
Code 3 (C3): Improvement recommended.
Remedial work must be performed if code C1 or code C2 is present in the report.
The EICR will show that the installation should be considered as unsatisfactory.
If an inspector identifies that further investigative work is required (FI), the landlord must also ensure this is carried out.
The landlord must also take appropriate steps to carry out if an inspector identifies that further investigative work is required ( FI).
The C3 code does not require any remedial work but only improves it. If the landlord carried out these improvements, it would increase the safety of the electrical system.
Do I have to have another full electrical installation safety report carried out if my first one is unsatisfactory?
Not necessarily. But, you must carry out any required work or request a further investigation no later than 28 days of receiving the safety report. It would be best if you got a written confirmation from the electrical installer you use to do any remedial work to prove the required works have been completed, and this confirmation must be kept with the unsatisfactory report. To emphasise, it is ideal to have a Satisfactory report.
Regulations and electrical safety certificate for landlords:
Private landlords shall ensure that a qualified and competent individual inspects and tests every electrical installation in their residential building at intervals of no more than 5 years.
In England, the regulations that come into effect on 1 July 2020 for a new tenancy and 1 April 2021 for an existing tenancy.
Following the inspection and testing, a private landlord must:
Make sure that electrical safety standards are maintained. The 18th edition of the Wiring regulations has recently been published as BS7671.
Ensure that properties are inspected and tested at least every five years by a qualified and competent person.
Obtain a report from the inspector, which inspector's results, and when the next test is scheduled.
Within 28 days of conducting the inspection and test, supply a copy of this report to the current tenant.
A new tenant must have a copy of this report before moving in.
Supply a copy of this report available to all potential tenants within the next 28 days of their request.
After receiving a request, supply a copy of this report to the local authority within 7 days.
Keep a copy of the report to give to the next inspector and tester.
If the report calls for further investigation or remedial work, you must do this work within 28 days or less.
Within 28 days of the completion of the remedial works, provide written confirmation from the electrician to the tenant and the local authority.
How about if I'm a homeowner? Do I need a certificate of electrical safety?
If you own your own home, you don't need an electrical inspection. But, there's still a chance you could be electrocuted. So, it's wise to inspect your home every five to ten years.
Which rented properties do the Electrical Safety Regulations apply to?
From 1 April 2021 in all cases where the regulations apply to a private tenant's main or only residence.
Do the electrical regulations apply to Houses of Multiple Occupation (HMO)?
Yes. The EICR will reveal any faulty electrical work, identify fire hazards, and determine whether any circuits are overloaded and potentially dangerous. Repeal of the old legislation makes it mandatory for HMO landlords to follow new regulations from 1 June 2020.
Does this Regulation apply to Social Housing?
Currently, there is no requirement for social housing to conduct an electrical inspection or certification every 5 years, although many regulations cover it as part of the well-being of housing.
What about new build properties or new electrical installations?
You will need an electrical installation certificate if the property has just been built or completely rewired, which you'll need to provide to local authorities as well as your tenants.
A landlord does not have to carry out further investigations or reports for 5 years after issuing an EIC as long as they have fulfilled their legal obligations.
What if I don't do the remedial work?
If a local authority reasonably believes that a landlord has breached one or more of the obligations under the Regulations, they must serve a Remedial Notice on the landlord that explains the problem(s) and describes the actions that must be taken to fix it.
If the landlord doesn't do as they are asked, the local authority may intervene on their behalf.
The local authority can recover the expenses associated with action from the landlords. Still, landlords may have the right to appeal against a demand for costs.
Is an electrical safety certificate a legal requirement for UK landlords in 2021?
Yes, it is. All landlords must get each of their rental properties inspected every 5 years, and they must keep the reports for the followings:
Their record
Tenants
Prospective tenants
Local authorities
Which parts of the electrical systems are included in an electrical safety inspection?
The EICR should include the followings and need to be checked every 5 years:
Light fittings
Wiring
Plug sockets
Light fittings
Fuse boxes
Permanently connected equipment – such as extractor fans, cooker and showers.
What happens if you don't comply with the regulations?
Landlords who violate electrical safety regulations face severe consequences. Local authorities can fine landlords up to £30,000 if they don't follow the rules.
What if a tenant won't let me in, or I can't find an inspector?
If a landlord can demonstrate that they have taken all reasonable steps to comply with a remedial notice, they are not in violation of their duty.
Landlord could demonstrate reasonable steps by keeping copies of all communications with tenants and electricians as they attempted to arrange the work, as well as any responses they received.
While attempting to arrange repairs, landlords may want to provide other evidence that the installation is in good working order. The servicing history and previous safety reports could be included.
Does my electrical installation need to comply with the 18th edition of the Wiring Regulations?
Yes. Not at all- if it is deemed to be safe. According to the 18th edition, the wiring installations made under previous editions of the regulations are not required to meet every part of the new ones.
They could still be safe for further use.
For continued use, the electrical installation must be safe. In practice, if the report does not require any remediation work or further investigation or, the landlord will not be required to do so.
How Often Do I Need to Carry Out a Condition Report?
At least every 5 years or change of occupancy. This can be shorter, please check your electrical installation condition report or certificate of electrical safety for further information.
Is it a legal requirement to get appliances checked?
As a landlord, it is your legal responsibility to ensure that all electrical equipment in your rental property is safe and well-maintained throughout the tenancy.
An unsafe appliance can result in the criminal neglecting a lack of proper maintenance, which can lead to a fine of £5,000, up to life imprisonment, and fines on all individuals involved in death if resulting in manslaughter.
Is an electrician allowed to enter my property during the Covid-19 pandemic?
Yes. Although the advice published on the virus and social distance in work in occupied homes should be taken into due consideration.
Related services:
Commercial Electrical Certificate
Other services.
Book an appointment now.
Sources and references: